Sprinting down the street
Avenue Veteran
Joined

2/23/17
Messages

375
Real Name

Caitlyn
Hi guys,
I just wanted to give everyone a quick update on Georgie. She is doing great and turns out she didn't get surgery (toe fell off prior to dropping off not really sure when [might have been late Monday night or early Tuesday morning]).
She is healing really well and is back to her normal self. She is still not happy about in the hospital cage (vet's orders until she heals completely) and has a follow up appointment in April. Here is a pic of her after a shower. (Yes, I am aware of her long beak and will hopefully be getting it trimmed when she gets her follow up appointment)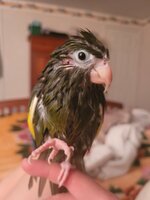 Once again thank you everyone who had replied in my previous post about Georgie. She is adapting well and acting as if she has never lost a toe.
Caitlyn