Ri-DQ-lously crazy 4 TAGs!
Avenue Veteran
Celebirdy of the Month
Mayor of the Avenue
Avenue Spotlight Award
Joined

11/21/11
Messages

19,311
Location
Real Name

Jennifer
Item #42:

Turtle Print
Starting Bid: $35 US
Minimum bid increment: $5
Shipping: Buyer pays
Donated by:
@Mockinbirdiva
This is a print from an original painting I did in watercolor. It has all the vibrant jewel tones of nature. There are seven turtles basking in the sun with their little legs stretched out to gather the suns rays to warm up after being in the chilly pond.
The image size of the print is 34" x 9 1/4"
The overall size with the border around the image is 40" x 15 1/4".
Perfect for that long wall and the nature lover!
Printed on 100 lb Lustro Dull acid free #1 grade paper to assure quality.
Signed and numbered by the artist ( Me).
These photos are on the fuzzy side, I apologize for my terrible photography skills. The print is precise and detailed in person!
If need be I can take better photos when the weather clears up here.
Shipping estimate is $8.50 - $10.00 to be paid by the winning bidder.
Prints will be shipped rolled up in a durable mailing tube. I roll them up and wrap them in paper and secure them inside the tube. Whoever you choose to frame the print can use their press to flatten the print for framing.
Quality paper but let a framer take it out of the tube for safe keeping.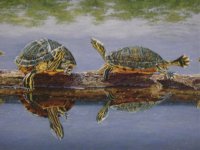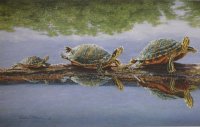 ​
1. Bidding is from Saturday, January 20 @ 9 am ET to Sunday, January 21, 2018 @ 6:59 pm ET. The winning bidder will be the last to bid by 6:59 pm ET.
2. Prices are in US $ for all items.
3. Shipping is not included unless otherwise stated.
4. Bid on this thread.
5. Post questions about this item below.
6. Payment is expected immediately. Please do not bid unless you are serious about buying, donating and can pay at auction close.
7. Please add up your items won from the Winning Bid/Bidder thread. You will not be receiving pm's from me this time. I will put totals at the bottom of the thread eventually but you don't need to wait for them.
8.

Payment for items is to be made using the Donations button (Paypal) here on Avian Avenue. Any shipping fees not included is to be paid directly to the item donor. Please pm the donor and include me (DQTimnehs) for shipping amount and to provide your name and address for shipping.
9. Items will be shipped once the winning bid amount has been paid as well as shipping cost, if applicable.
10. Auction is open to Avian Avenue members. No minimum post count required.
11. Have fun & thanks for bidding!!!
Last edited: