Biking along the boulevard
Celebirdy of the Month
Mayor of the Avenue
Avenue Spotlight Award
Joined

9/12/20
Messages

6,711
Location
When I looked out my kitchen window this morning, I saw this guy (gal?) in my backyard surrounded by the local Crow family.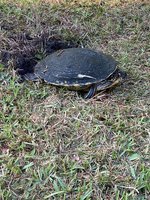 I couldn't tell if the turtle was stuck or trying lay eggs (not their usual spot).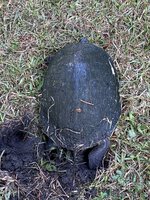 The turtle seemed to be able to move all of his legs but one, so I went with stuck. Got my leather gloves and picked him up slightly and moved him forward just a tad. When I lifted him, I could tell that his left front claws had gotten tangled in the thatch. Once loose, he scurried back to the pond!