Rollerblading along the road
Avenue Spotlight Award
Joined

6/12/22
Messages

4,151
Location
Real Name

Meghan (she/her)
Isadora is still chewing her feathers.
It's still loads better than it was previously, but I can't seem to get her to stop completely. She's not plucking, thankfully, but she's damaging her shoulders and I can't seem to get ahead of it.
She's got loads of toys, plus two wood blocks for shredding. Blood work was glorious when we went to the vet, no mites, no parasites, etc. She's in amazing health. She barbers whether she's in the cage or not - I could have her out and we're doing stuff, and she's still at it.
Do I need to get her a collar? What helps with this? It's only at the tops of the wings (Her "shoulders") and no where else. We do a bath once every ten days or so, which she loves. She's otherwise acting totally normal. I just have no idea what causes her to do this, and how I can fix it.
This is what I mean by chewing - she just sort of nibbles at the feathers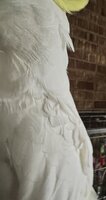 Last edited: