Biking along the boulevard
Avenue Veteran
Mayor of the Avenue
Avenue Spotlight Award
Joined

11/15/12
Messages

6,702
Location
I thought I would start my own thread to share the story of our dogs! As I've said before, my wife has been a big time dog lover her whole life, but I'm allergic to everything with fur. That meant that whatever dog we had wouldn't be able to sleep in the bed with us or be on the furniture, so that made her sad.
I was looking into allergy shots, but also whether or not there was some breed that I might not be allergic to. I came across Italian greyhounds. We wanted to be able to meet one and have me get really close and see if I'd react. Unfortunately every time we called about a rescue iggy, they were already gone and required previous experience anyway. We found a couple of puppies in South Carolina (the closest we could find), so we took a road trip to meet the puppy that would be our Ouji. We stayed there a couple of hours, I think, and after hugs and kisses I did not react! So we took the one that was most shy and went on our way. It was perfect, because I wanted a small dog anyway (didn't like big dogs - ha ha ha, so funny now)!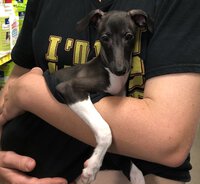 We ended up going to a doggy fun event a few months later. And it was there I saw my first greyhound. Tall and beautiful with huge, deep eyes and such presence, but not imposing in the least. I was captivated. After much research, I decided to apply to foster one of these unearthly, soulful creatures and figured I'd be waiting a few months at least after putting in my application.
Wrong! Turns out my first foster doggy had to leave his medical foster's home (he had been recuperating from a broken leg, which was why he wasn't racing anymore), and they needed someone to take him right away. So I literally had him at my house that same weekend I had applied! Even though he was quite withdrawn at first, I fell in love with him in less than 24 hours. My JJ.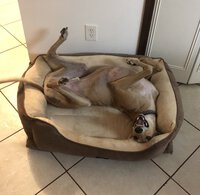 I was ready for another foster shortly thereafter, and that's when we met Elsa, my little snow bunny. She's a super shy girl and had great trouble at first. She was very scared and also feared all of her things being taken from her (toys, bed, food). She has come a long way, but she's still very shy and runs away to hide when people come over. She's definitely my girl and will come and press against my legs for comfort and reassurance. She may never be brave enough to seek cuddling, but who knows! Craybie has definitely shown me that amazing things are possible even from the most frightened babies.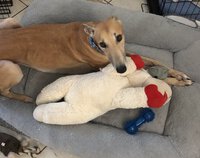 After all this greyhound reading and research, I came across stories about the Canidrome in Macau (China). They killed the dogs if they didn't do well enough, and kept them in concrete prison cells with no toys, beds, or anything. China is a terrible place for greyhounds. At any rate, the Canidrome had finally been shut down and the rescue groups were trying to find homes for 500+ dogs. I knew that I wanted to give a home to one of those dogs. A rescue down south had several, so we went to meet them. Went for one and came back with two! Our old man, Senny: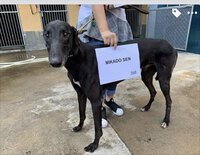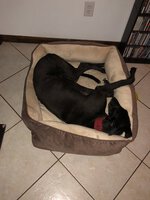 And Sai, our most vocal, emotional boy that tried to chew his way through the bars of his prison to be near people: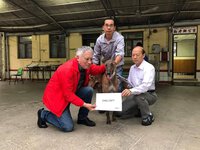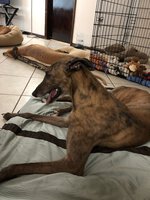 Then for some reason the wife realllly wanted to rescue a pup from the China meat trade. We figured a whippet x greyhound mix would be a little smaller and a good playmate for little Ouji. When we were looking at pictures of the puppies (their mother had been rescued and had her babies at the rescue) she pointed at one and said, "That one has crazy eyes. Let's not get him!" We decided we'd take whichever puppy chose us. When we went to meet them, GUESS WHICH PUPPY PICKED US. That's right, the crazy one! Made a beeline straight to us and gave us kisses and attention right off the bat. We didn't even realize until we looked at his paperwork. I laughed and laughed. We named him Mercury. He's absolutely nutters and loves to leap-tackle us every chance he gets. He's not yet a year old, so we still have plenty of crazy time,lol.