Joined

1/12/23
Messages

5
Hi everyone,
My pet cockatiel Dommi has gotten into the habit lately of chewing cables at my desk or even lately flying down onto the floor of my living room and chewing cables near my TV cabinet.
I can solve some cables by tying them up high but some need to be on the desk such as my laptop docking station cable.
I kind of rushed in and bought
These cable protectors here (link)
.
They are still in shipment and so haven't used them, but now I'm not so sure they are safe.
I think they are made of PET material as per the description but even so, it's sometimes hard to trust the description and to know whether any harmful colouring agents etc. have been used.
Does anyone know if these would be okay to use to protect the cables? Or it not, could anyone give some suggestions for other safe things I could use to protect cables.
I try to distract him with safe chewing items such as sisal rope or sea grass rope etc., but it only works for a bit before he has to try my other cables.
Thanks
masterg174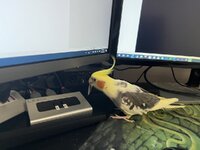 Last edited: