Ripping up the road
Administrator
Avenue Veteran
Celebirdy of the Month
Mayor of the Avenue
Avenue Spotlight Award
Joined

4/15/10
Messages

47,303
Real Name

Matthew
Our "Mayor of the Avenue" award is presented to a member who exhibits the qualities that distinguish them to be an upstanding credit to the Avenue, a loving, informed, conscientious and caring bird parront
and an all around good neighbor.

I am happy to announce that Ankou is October's Mayor of the Month.
I enjoyed reading your interview, and am sure that everyone else will as well!
1. What kind of birds do you have (age, species and names)?
Just Peanut, an 18 year old peach faced lovebird.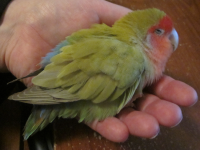 2. What got you interested in birds?
I've always been fascinated by birds, and had some childhood friends and family with chickens and untame parrots. Then I saw a pair of lovebirds at the petstore when I was 12 years old and and they were absolutely precious... but I knew nothing about them so I did a year of researching all I could, saved all my allowance, and got a baby from a local breeder... That baby was Peanut.
3. What have your birds brought to your life?
A good friend and the best roommate I've ever hard.
(I mean, only roommate I've ever had but shush.)
I love that about birds, she's such an individual, so opinionated and sassy, a sense of humor and dignity, and no concept of unconditional love.
She has given me so much joy and happiness. Making toys for her also gives me an excuse to do some arts and crafts, which I really like!
4. What have you learned from sharing your life with your birds?
Patience and respect, everything had to be on Peanut's time, not mine, and in her eyes her rules are just as valid. Since I got Peanut as a child I really feel having to care for her really helped me out later in life. Birds are often frustrating and dealing with her might have given me the patience to better cope with my own emotions. Having to put 90% of my allowance straight back into bird care taught me how to budget too.
5. What's one birdie memory that will stay with you forever?
That is such a tough one, so many little things over the years. Lots of loving and funny things... Probably my favorite of Peanut's antics though is when she discovered throwing things off the desk into the trashcan made an even more satisfying noise than the normal *thunk* onto carpet, thus starting a multiweek saga where I lost quite a few bird toys, some silverware, and a disk to a videogame before I discovered what she was doing! I finally had to move the bin one day after she tossed my wallet and keys I'd left out.
6. Where is your birds main living area?
Peanut lives in my bedroom, where I spend a lot of my free time when I'm not with my dogs.
7. Did you change things in your home to accommodate your birds and if so what kinds of things did you change?
I've committed a lot of my bedroom space to her. My computer desk is mostly a flatop play area for her and while less of my room is dedicated Peanut playspace now that she is blind and does not fly in the past every horizontal space aside from my bed was set up with things for her to do if she would fly there (and as a way to encourage her to fly.) Since she cannot fly anymore I've added a coffee table to give her more space outside her cupboard. Because of her age and arthritis, flat space is so much more important than stands she has to perch on.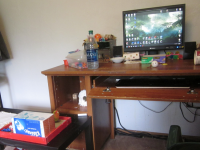 Leftover from when she could fly is a magnet screen in the doorway and to help keep her safe from the dogs, baby gates everywhere if I'm with her and need the door open. If I'm not in her room, the door is closed. Since she's in a small enclosed space where I sleep and spend a lot of time, an air purifier is important.
8. Are you involved in any kind of bird related group or activities?
Not outside AA, I'm a bit of a shut-in offline and actually not very social.
9. What is the one luxury item you would love to have for your bird(s)?
I would love to have a setup on hand to be able to do some oxygen therapy at home for her. So far she hasn't had any issues with her breathing but as a senior and with the nearest emergency avian vet nearly 2 hours away it would be nice to have just in case.
10. Is there any bird that you dream of owning and if so why?
I used to think about this more but I've discovered I really love lovebirds. Their rainbow of colors, little smiles, strongly held opinions on how things should be, and potential for friendliness if you give them respect.
11. Describe a typical day with you at home with your birds.
I am able to work part time from home, and am home with Peanut most of the day. I set up foraging activities before I leave, these days mostly in the form of snacks in cupcake wrappers left in the same accessible locations due to Peanut's eyesight and mobility. I also leave a fresh breakfast. She wakes up at 9:30 am sharp and does her own thing until I get home around 12-1 pm, then she will spend the rest of the day around her desks playing with toys, shredding paper, and cuddling while I work from the computer. I do have to split my time between her and the dogs so I try to always have a shredding activity handy for dog-time. She naps a lot too.
I hand feed her damp pellets a few times to try and sneak in some extra calories. At dinner we eat together, her with bird-safe fresh food on her own little plate. Lately I am letting her stay out later sleeping and put her back in her cage around 10 pm, replacing any ruined toys after a safety check.
12. What have you learned about owning birds that you would like to share?
Flight is so important. I partially clipped Peanut's wings for years thinking it was safer and... no. Fortunately I'd stopped clipping her wings already the one time she flew to the living room when I left her door open. When I returned home from a dog walk the fact she was up high and being able to return via the air when she saw me could have saved her life. The change was more than that, when I finally stopped clipping her wings her self confidence grew. Easier flight gave her the power of choice and more self-sufficiency. It wasn't night and day, but it was clear she was a happier, more fulfilled, bird.
I think it also helped when she lost her flight eventually to age. Years of choosing what she wanted to do and me respecting that (as well as having made her room bird-safe so she could only make good choices) may have taught her she can ask for my help and she'll get it. Instead of flying now she steers my hand around by leaning and has decent spatial awareness she might not have had without memorizing those flight paths.
I'm not telling people to never clip, just don't be an idiot about it like me. A final option, not the first.
13. If you knew then what you know now about birds, what would you do differently?
Get two birds if you can. I love Peanut. I love the bond we have, I'd do anything for her, I spend at least 4 hours a day with her... more on toys and such so she doesn't get bored when I'm gone.
But I feel she should have had a bird-fried to keep her company when I can't be there. By the time this really sunk in she was over-bonded to me and extremely bird aggressive, so it was no longer and option. Now I would love to get her a younger 'boyfriend' to help her preen (since even with pain meds her arthritis clearly limits her range of motion) and bring her food but I do it instead, the best I can with my fat human fingers and wetting some pellets with a squirt bottle. But I can't be there 24-7 like a bird could. She's learned to be alone and is happy and well adjusted but I feel it shouldn't have been necessary for her to accept that.
14. What other hobbies do you have?
I play video games and read, my favorite genre being fantasy or things with a lot of mythology and for video games I like RPGs and open world adventuring. While I haven't drawn nearly as much since my eye surgery in 2013, I also like digital art and watercolor painting.
15. Anything else you would like to share?
I never would have guessed I'd learn so much from staying around AA after I found it by googling "vibrating lovebirds" to see if Peanut was the only bird that vibrated with excitement when she was happy.

Thank you everyone for making this site so wonderful and informative, and admins for keeping it alive as a resource to any bird owner.