Ripping up the road
Administrator
Avenue Veteran
Celebirdy of the Month
Mayor of the Avenue
Avenue Spotlight Award
Joined

4/15/10
Messages

46,793
Real Name

Matthew
Our "Mayor of the Avenue" award is presented to a member who exhibits the qualities that distinguish them to be an upstanding credit to the Avenue, a loving, informed, conscientious and caring bird parront and an all around good neighbor.

I am happy to announce that Lori is November's Mayor of the Month.
I enjoyed reading your interview, and am sure that everyone else will as well!

1. What kind of birds do you have (age, species and names)?
I have two male Green-cheeked Conures, both two and a half years old. Cricket is Yellow-sided and Watson is Pineapple. Recently, I adopted a Red-lored Amazon, Cocoa. She is approximately 20 years old.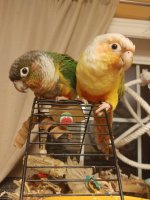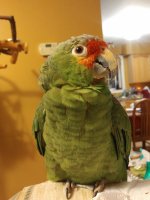 2. What got you interested in birds?
I am not sure, really; I used to imagine that I had a pocket-owl and we went on adventures. I was five or six at the time. Then one day, I told my dad that I simply must have a Blue and Gold Macaw. According to him, the look on my little face was so earnest. I did not get my Macaw but he brought me home a lovely little green budgie and that was the start of my relationship with birds. I always had single birds until recently and in addition to my budgie, I have had two cockatiels in my life.
3. What have your birds brought to your life?
Oh dear, I will try not to wax poetic here. Birds have always helped me to be mindful and to live in the moment, particularly as I have grown older. I marvel at the extraordinary beauty of a feather, at the architecture of a beak, at how fragile birds are, yet at the same time, how strong. When Cricket did not seem happy as a single bird, I adopted Watson and it was the best thing I could have done – for all of us. Cricket and Watson bonded and they are both happy now. Their relationship had brought me peace in watching them preen each other. It is so intimate and loving. They allow me to let go of the stress and anxiety of the busy world and focus on that one methodical yet meaningful act.
4. What have you learned from sharing your life with your birds?
The importance of patience, and respect for individuals. The need for trust in relationships.
5. What's one birdie memory that will stay with you forever?
The first time my cockatiel, Sam spoke. He said "pretty, pretty bird."
6. Where is your birds main living area?
The birds are in the living room as it is the most used room in the house.
7. Did you change things in your home to accommodate your birds and if so what kinds of things did you change?
I took down all of my pictures and a wicker mirror because Cricket used to chew everything and I was worried he might ingest something toxic. I am in the process of getting a new front door and will have a magnetic screen attached to it for safety. Other than that, a change in décor – a tree and hanging orb and of course, all the candles and plug-in air fresheners had to go.
8. Are you involved in any kind of bird related group or activities?
Just AA. I have found it to be so valuable in terms of information and support. I was briefly a member of another forum but it had a very different tone and I have since left.
9. What is the one luxury item you would love to have for your bird(s)?
I would love a large decked-out corner cage for Cocoa. Cages are so expensive in Canada. That and a Wingdow WingRing, but that it two things.
10. Is there any bird that you dream of owning and if so why?
Actually, I am very fortunate and have my two dream bird species. I love GCCs and cannot resist their lively personalities and big button eyes. They are such characters. In addition, I have always admired Amazons and have a great respect for them but never thought realistically, that I would have one and now I have Cocoa!
11. Describe a typical day with you at home with your birds.
Our life is quiet and, for the most part, non-eventful. On a workday, I get up about 6 a.m.,
collect Cocoa from her sleep cage and bring her to her big cage in the living room. The boys are already in the living room where they share a big cage and sleep in it. I change water and papers and the boys get breakfast. They stay in their cage in the morning. Cocoa stays out for about an hour and I feed her by hand. I put her in her cage when I go to work.

When I get home, Cocoa gets another three hours out. She gets a warm dinner. We hang out while I do work or watch T.V. and she goes to bed around 8 p.m.

Then the circus starts as I release the boys! They get a dinner of mash and/or chop. Cricket practices his flying skills, zooming about and causing mischief until Watson calls him back (Watson does not fly and I am not sure why). Then they play on the cage top, moving to the hanging orbit before bedtime for some serious cuddling and preening. At about 11 p.m., the lights go out and Cricket flies to me for a bedtime cuddle. Watson does not like to be touched so I tell him to go to bed and he dutifully does as told.

Weekends mean more time out for everyone and some time in the sun when weather permits and occasional visits to my sister's house or parents' home.
12. What have you learned about owning birds that you would like to share?
Bird "ownership" is not something to enter into lightly. They are messy, loud, and expensive and at the end of the day, no matter how much you try, they may never really like you. I cared for my cockatiel, Sam for 17 years but he bonded with my sister. That's just the way it goes.
13. If you knew then what you know now about birds, what would you do differently?
I would not purchase a bird from a large chain pet store. Three of the six birds I have owned were rehomed; the other three, I purchased from pet store chains. So many parrots are abandoned or in need of rehoming, it is overwhelming. Of course, it's not a bird's fault it is in a pet store; those birds need homes too—it is difficult. Cricket came from a pet store chain and I just could not bear to leave him there but in taking him, I supported the system.
14. What other hobbies do you have?
I make rag and ribbon wreaths, although I have not made any this season. In addition to work, I am the president of a national professional association and that keeps me busy.
15. Anything else you would like to share?
I just want to say thank you to everyone in the AA community for all of their advice and support (and humor). The internet can be tricky when you are looking for good information and I have had horrible advice from pet store staff. It is so important to do research and consult people you can trust and people who have lived experiences.