We received a new shipment today, and while Oscar is mostly interested in the box it arrived in, I'll post an update about how he likes this new toy once he engages with it.
It's entirely stainless steel, feels very sturdy, and is fairly simple with two balls that spin around in an enclosed cage.
The balls have 1/4" holes in them, so that may allow placement of something inside, but I'm not sure what ¯\_(ツ)_/¯ (ideas welcome)
They're ABS plastic, and the only caution I read regarding that material is in the context of 3D printing when it's heated and causes fumes.
If anyone has specific concerns about ABS in this application, please let me know.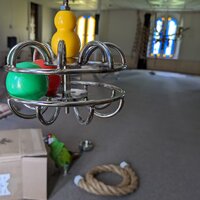 ​