Rollerblading along the road
Celebirdy of the Month
Joined

3/24/21
Messages

1,183
Real Name

Nnbal
Hello everyone
About a week ago, I noticed that the Pasha's beak was broken. I was very scared when I first saw it. Cause I thought his beak hurt.
The vet said it will get better in time. He also said that the beak will grow like a fingernail and be brand new. He said I could make the treatment easier by rubbing almond oil on his beak.
I had vitamin E oil at my house and I applied vitamin E oil as it is more comprehensive.
I congratulate Pasha for being very good in this treatment. He is a good boy
Here is the result after a week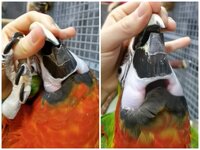 Also here's a bonus