Joined

6/21/17
Messages

244
Real Name

Lindsay
Hello, I've been gone for ages. Didn't intend to be gone for so long, things just took priority.
To get right to it, one of my teachers has a pet zebra finch in their class (along with several other neglected animals that I'm currently working closely with). I don't know too much about this little finch, named Sonorous (Latin for noisy), but I do know that he is very alone, lives in a little cage with caked on poop from what looks like weeks to months of buildup, and has a seed-only diet. I have gotten permission from this teacher to help out with the snakes' setups and hopefully that will extend to helping out with this finch's setup, too.
I have so many questions and I'm not going to bombard the forum with them now, but I just need a place to start for this poor guy. I really don't know enough about finches to feel confident in my decisions regarding how to help improve his situation, so I just need help in general. I'll probably be posting more questions later, but I have a few important ones to start out with.
Firstly, should I try to encourage my teacher to seek out a friend for this bird? I know that finches are incredibly social but I'm wondering if this should take first priority right now.
What do I even begin with? This is an overview of the conditions, there's just so much I don't know where to begin.
Cage: it's pretty small but it does have corners and it does have enough space for Sonorous to flutter around in.
Perches: all dowels and he seems to only flit in between two choice perches at the top of the cage. One swing that he'll use occasionally.
Toys: has a few but I have no clue if they're interesting to finches or what would be interesting to them.
Cleanliness: like I said, buildup of poop across the floor and on his "basket" and "nest."
Other things: is a nest and basket going to encourage hormonal behaviors? If so, should they be removed?
Food: all seeds with the little bitty dyed bead-like pieces in them. Also covered in poop.
Water: in those tube dispensers that get moldy easily, didn't happen to notice if they had mold or not. There is mold in other cages for the snakes and crested gecko, so I would not be surprised if it's in the finch's water.
So I'm just at a bit of a loss.
I have been given permission by this teacher to modify and add to the snake tanks and, hopefully, he may let me work on Sonorous' cage as well. I just need some pointers on what to change and how to change it.
Here's a picture of the little guy.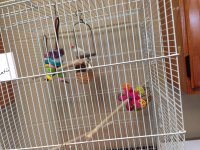 He's very friendly so far and he actually approached me when I came over to talk to him. But I know no finch body language or how to interact with them properly, so for all I know he may have been very defensive, which I hope he wasn't. But he is constantly calling out and it breaks my heart to hear him during class, I know he is really in need of a friend.