By request, here are my cats!
First is Matilda. I often call her Miss Tildy. She's approximately 4, I got her when she was two after losing my heart cat Enid. She looooooves belly rubs.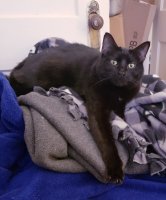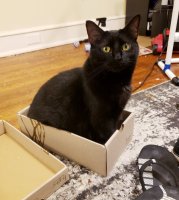 Next is Percy (Percival) he's 2. Aka Percy - bird, or Bud. He's very playful and athletic, he and Matilda love to chase each other and wrestle. He's a very talkative cat and he and Matilda chat often. My friend says he "ran out of toner" (because my other cats are black.)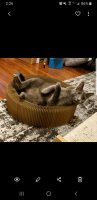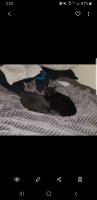 They don't really cuddle, but Matilda is somewhat maternal to Percy, like a big sister and he's the teenage brother who's embarrassed by her affection.
Brand new, 3 months old, had him a week and a half is Ivan. Aka Vanushka or Ivanchenko. I was watching the amazing Chernobyl series this summer, so Russian name it is.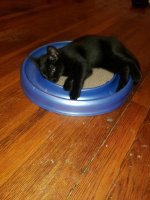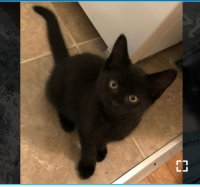 Percy and Matilda are not in love with him, but they're coming around. Ivan and Matilda were playing a bit last night.
Plus the 4 birds, this is my zoo!