☃♥❀Livin´ in Lovebird Land❀☼☺
Super Moderator
Celebirdy of the Month
Mayor of the Avenue
Avenue Spotlight Award
Avenue Concierge
Joined

1/8/18
Messages

28,252
Location
I picked up a set of eggs but they smell strange. Like Chinese medicine mixed with maple syrup.
I'm going to wash them with ACV, is there anything else bird safe that I can use to get rid of the smell.
They cost me 2gbp for 10 from a UK aviary.
They feel good, like they feel the same weight as a lovebird egg. They are a slight different shape, more oval, less egg. But hopefully Aldora won't notice.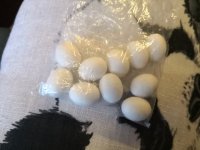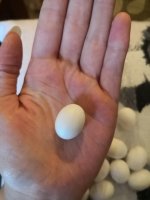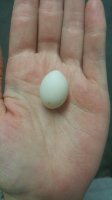 Here´s the link if anyone in the UK is looking for lovebird or budgie eggs:
Budgie & Lovebird Egg - solid - £0.25 : junglegold.com