Jogging around the block
Avenue Veteran
Joined

3/16/10
Messages

695
Location
Real Name

Brice
story time !

So since i was a little kid, i have always LOVED goldfish, but when i got my first aquarium (about 11) i was very interested in exotic community fish so i never got the chance to have a fish tank with goldfish.
years passed and i documented myself more and more about goldfish keeping and pond keeping, 2 years ago i decided to go ahead and do it so i started with a little 23.77 Gal (90L) bucket
and got 2 goldfish (calicop telescope & red cap cross fantail), they looked quite happy and i kept adding plants to it; but i ended up with 1 more a week later because how can you resist a little long fin pearlscale !!
.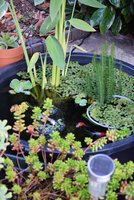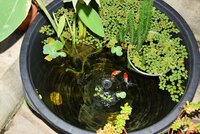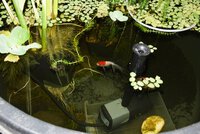 so might not look like it but they were extremely tiny to me ! ( 4cm body ! so about 1.6 inch). the red cap mix is Cleo, the pearlscale was Pearl and the Calico was Bubule which is a cute way to reffer someone or something as a bubble (bubble is bulle in french).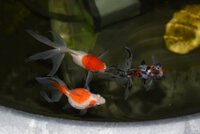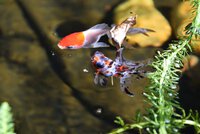 After a few month i decided to upgrade them to a bigger pond so i dug as much dirt out from a concrete planter that i have in my garden (not useful at all no idea why the property owners did that), and the fish went from a 90L (23.77 Gal) mini pond to a 600L (158.50 Gal) mini pond !!!!!!!!!
it lookedso huge to me !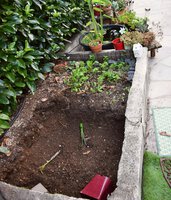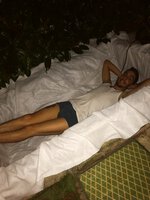 and this was the result ! (the bricks are natural volcanic bricks and now they have various moss growing on it !!!)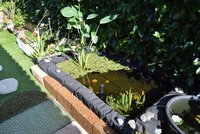 unfortunatly bad things did happen, after about a month in the new pond a cat snatched bubulle away one night and i was devastated the next morning so i decided to let the floating plants take over the surface so the fish can be well camouflaged/hidden under it.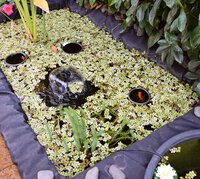 But it was kinda annoying even though it worked great because i couldn't enjoy watching my babies swim, so i made some diy tube cercle foating thingies lol, by the way the cute orange butterfly telescope you see in the previous picture and this one is named Okkoto. (ill explain later)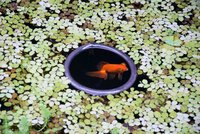 then winter came and all the floating plants died which got the pond extremely durty so i had to find a solution and decided that a net would be the best option even though it's less pretty.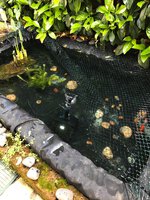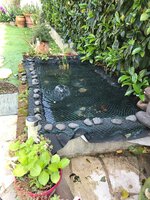 that i lost pearl from swim bladder disease ... since you can't add goldfish in ponds during winter i was left with only 1 fish, (Cleo the red cap fantail) and she spent the winter alone in the pond ..
Then spring came and my hunt for new pond mates for Cleo began ! i quickly found a beautiful orange Butterfly Telescope that i named okkoto (he was twice the size of Cleo back then but now she is the same size as him).
later i got 2 red & white long fin orandas that i call the twins because they look so much alike (they have grown a bit but they are still very small).
then finally i got a little orange ryukin named fidji that doesn't have anything special but looked cute.
i feel like i have space for 2 more fish then i won't add anymore because i don't want the pond to be overstocked.
here are some pictures of them now !
So thi is Cleo the red cap fantail now ! she got so big !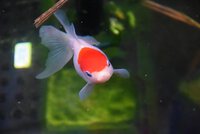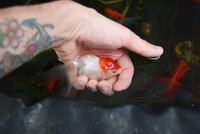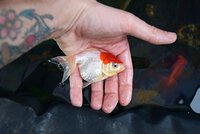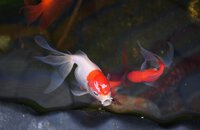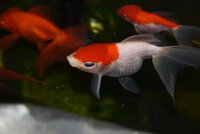 Then the gorgeous Okkoto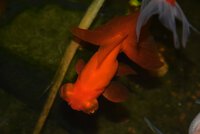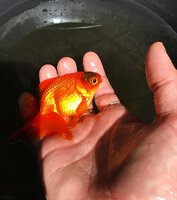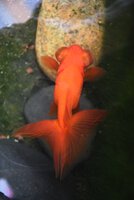 he grew up a bit since that picture.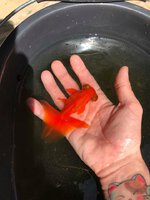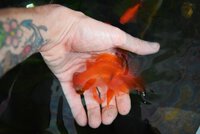 ​