Finally, FINALLY, after years of research and months of planning and cancellations and delays, I'm heading home… with a BIRD!
Meet Merlin!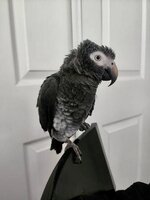 He's a 4YO TAG, and NOT the bird I thought I was coming home with when I drove to California. I visited an enormous CAG the same morning I picked him up and I tried my hardest to get along with him- despite coming with pockets full of treats, he wanted nothing to do with me. Besides biting my feet.
But Merlin? He's one sweet and easy-going little dude.
He gratefully (and
very
gently) accepted my gift almond, and he stepped up for me almost immediately. He's had two owners before me. His last house didn't even keep him in a cage- he slept in a cat crate with one skinny branch propped across the center.
He likes carrots, broccoli sprouts, edamame, apples, ALMONDS, and pumpkin seeds… basically everything I've offered him so far except pellets. We'll work on it.
He's also not too keen on toys yet- he enjoyed balling up a paper napkin into little tiny beads, but doesn't know what to do with the toys I hung in his crate. Another thing we'll work on!
Im so, so grateful he's come into my life! I'm really excited to start positive reinforcement training with him and see how his personality blossoms!