May 2018 Feathered Estates Highlight



I am very pleased to announce this month's showcased member
Laurie!

​

1~ What kind of birds do you have and how many birds did you design your setup for?
I have caiques. 4 White-bellied Caiques named Turbo, Peaches, Quackers and Ember and 2 Black-headed Caiques named Bandit and Rainey. They also have babies from time to time.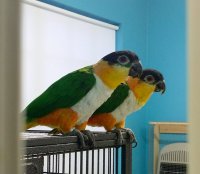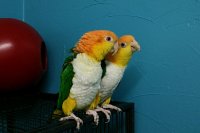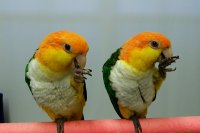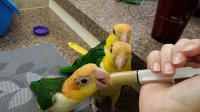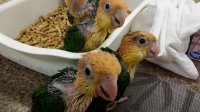 My set up is designed to accommodate and care for 6-8 adult caiques. We are also equipped to raise baby caiques.
2~ Is your setup for a handicapped bird?
No.
3~ Are there any budgeting tips you discovered while doing your setup?
If you are handy do any construction work yourself.
Buy based on value not on price. I always try to find that happy medium between high price and low quality. Don't buy the cheapest cages and accessories you can find. Look for something in the middle and buy an established brand from a reliable vendor.
Invest in good quality, it will save you money in the end
Do the construction labor yourself if you can
Buy in bulk
Look for one stop shopping to save on shipping
Reuse and repurpose things
Buy what you really want the first time so you don't end up buying two or three versions along the way
4~ Is your setup changeable or stationary and do you add or make changes continually or do things stay primarily as is?
I am always changing things or have a plan for more changes soon.
Not only do I move things around but I am always adapting my set up to suit different numbers and ages of birds.
Everything is on wheels when possible. This makes it easy to clean things and move them around as needed.
5~ Where did you find your materials if you made it yourself or where did you purchase the setup and do you have favorite places to purchase safe toys and/or supplies that you find reliable?
Being that I also design and sell bird toys myself, we either make our own wood parts or I buy everything else in bulk from wholesalers.
Even if you can not buy wholesale you can usually save money by buying in bulk quantities. If you have lots of birds or large ones that like to chew and you are handy you may find it economical to cut your own wood or talk a friend into doing it for you.
Even though I make most of my own toys and cage accessories I do like to shop occasionally with our vendors here when I find something I just love or can not make myself.
If you do not find bulk pricing listed with a small vendor you can always ask if they offer a discount for larger quantities. Personally, if someone wants 100 of some toy part I am happy to discount it a little just to make the bigger sale. Toys are a little trickier, just watch for sales.
For larger construction projects, I usually look for what I can online and if I can not find it online I try and price compare locally.
6~ Do you have a favorite item that you bought for your setup?
So many. I really love my glass door which we got in the scratch and dent section of Home Depot and filled, sanded and painted. My Austin Air air purifier is a workhorse that I can't live without. I also love, love, love cages with dividers.
7~ If you made any DIY toys what is your bird(s) favorite and were there any failures?
I've been making toys for years and years and there are always failures but you just take it apart and try again. The biggest concern is safety, often times you really have to consider the bird and it's style of play to determine what is safe.
My birds like paper towels, coffee filters, foraging, 1/4-3/8" crosscut wood, birdie bagels and some of them like bells or noisy toys.
Skewers with wood on them, foot toys and toys that swing and move are favorites.
8~ Did you incorporate into your setup any foraging toys and how did your bird(s) take to them and was age or inactivity a factor?

Mainly, easy foraging like wrapping a treat in a paper cup or paper, hiding food in a dish of toys or placing it in a container that moves or is harder to get to than a food dish.
I have also used toys with drawers that need to be opened or that need to be turned to get to the food. They seem well received and I think because I started when they were young they took to the toys easily. If the toys are too hard they will give up so you definitely have to make sure it is easy and quick until they learn what they need to do to get the food.
Turbo can pretty much open anything so he likes tupperware or lock and lock containers that he can open to get to a treat.
9~ What difficulties did you encounter, if any, and how did you remedy them?
Our biggest problem with even having birds in the house is that my husband is extremely allergic to birds. We had one itty-bitty parrotlet in the house for 6 weeks and hubby couldn't even be anywhere in the house without having a persistent cough.
Now we have anywhere between 6 and 20 caiques at a time (when we have baby caiques) and it is fine.
The solution is to contain all the birds and their allergens within two rooms which are connected to one another.
We did a whole lot of construction work to make it all possible.
We created a negative pressure room similar to a quarantine room in a hospital. Creating the air flow is simple. First we sealed off all ventilation to the rooms leaving only one place for air to come in (under and around the door). Then we installed a high powered exhaust fan at the other end of the room which draws the air through the room and out of the house.
This setup draws in air from the rest of the house and then exhausts the bird air to the outside. It keeps the air clean for the birdies and for hubby too.
In addition to this, we had to install a room air conditioner and heater to make up for closing of the central heating and air ducts.
10~ What do you like least about your set up (if anything)?
I have no complaints, I could always use more space but that is a luxury. I really like it overall.
11~ What do you like most about your setup?
So many things. I really love the glass door and how it lets me peek in to see the birds when I walk by, I have a perch on the door so when the birds are loose in the room they can sit and look out at me.
12~ Did your bird(s) take to the setup right away or did they approach it tentatively needing time to adjust and do you feel their age was a factor?
They always are a little tentative when I change things and can take hours to days to really warm up to something new and even longer to start using it.
Age is definitely a factor, juvenile birds and babies are really curious and will almost immediately check out new things while adult birds are much more tentative and will take time to warm up to things.
Often, I will introduce new toys or play areas by giving them some time to adjust and then luring them over to interact with the new object. I find that giving them treats while they are near or touching the new item helps them to associate positive experiences with the new item and warm up to it much more quickly.
I also try to bring in large items and set them in place when the birds can't see them. It seems that they are much more jumpy around new objects that are moving then stationary items.

13~ Any future renovations planned?
Always. The biggest thing right now is new cages. What started as a much more simple idea has turned into a massive project. I devised a plan where hubby could build stainless steel cages with aluminum frames and laminated panels. It was a big project but he mostly had the skills and tools to do it.
It was not a perfect plan but it was very workable. Well he suggested a better solution would be to weld the cages and frames. This allows them to be much more streamlined, which is great for cleaning and upkeep. So in the end, we will have even better cages but it's going to be a while.
The new cages will be a little bigger than the current ones but mostly they should be much easier to clean and service and should be fairly indestructible. I plan to have solid panels by the walls, stainless steel mesh for the top, grate and fronts, removable dividers, a trayless system for catching debris and outside access food and water dishes. I also want to have the entire front of the cage open for cleaning.
Last edited: