ASK ME FOR PICTURES OF MY MACAW!
Super Moderator
Celebirdy of the Month
Mayor of the Avenue
Avenue Spotlight Award
Joined

4/28/18
Messages

22,837
Location
Real Name

Shez
Every now and then I've come across one of these leeches in our yard but I'm not sure if they're a bad thing or just a thing.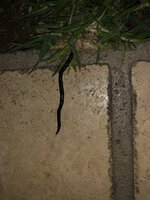 At our last house every now and then we'd find these dark ones with the stripe down their back, some really cool electric blue ones and some bright orange ones. I'm not sure if they're a problem or not and we don't find them often but my curiosity has the better of me as I'm only really familiar with the blood suckers that might be found in dams or creeks sometimes.
Should I be doing anything about the fact there's the odd one of these galavanting about my yard?
Sorry the pic isn't the best.