June 2018 Feathered Estates Highlight



I am very pleased to announce this month's showcased member
Lodah!
​

1~ What kind of birds do you have and how many birds did you design your setup for?
1. Only one bird... Pilo of course! But Pilo has multiple characters and his total love for us is worth being spoilt, consequently his setup is for one bird only! Plus we believe that all fids should have the room to fly, as nature intended.
2~ Is your setup for a handicapped bird?
2. The setup was intended for flight and for exercise, so even a handicapped fid could use it. Pilo uses ever inch of his cage.
3~ Are there any budgeting tips you discovered while doing your setup?
3. Search the internet for cages, so much cheaper! Use quality toys as well (like stainless)... cost more initially but they outlast the cheaper ones by far!
4~ Is your setup changeable or stationary and do you add or make changes continually or do things stay primarily as is?
4. Pilo's Home is moveable so we can clean underneath if required, plus it helps when we have to move his setup around! No fid should have to live in the same environment forever... His toys are rotated and added to every few months or so, with the major structure changed every year to facilitate a major clean up!
5~ Where did you find your materials if you made it yourself or where did you purchase the setup and do you have favorite places to purchase safe toys and/or supplies that you find reliable?
5. Unfortunately our stainless steel shop in America closed, but Pilo was fortunate enough to get his favorites before that! We always try to purchase his toys from the rescue store in Queeensland Australia as they return the profits back to homeless fids. Other than that, his other sources are the Pet store near Windsor as it is spotlessly clean and they care about who purchases their fids and for the animals and products that they sell.
6~ Do you have a favorite item that you bought for your setup?
6. Ask Pilo and he will tell you anything with a bell! Fortunately for us, he doesn't destroy his toys so they last for a quite a while! Stainless are his favorites!
7~ If you made any DIY toys what is your bird(s) favorite and were there any failures?
7. Because Pilo is so clever, he works out foraging toys way to quickly and becomes bored with them! A bell on the other hand attached to a piece of string keeps him entertained forever!
8~ Did you incorporate into your setup any foraging toys and how did your bird(s) take to them and was age or inactivity a factor?
8. Foraging toys tend to fail unless I am holding said unit and Pilo can get immediate applause which he loves! He is such a ham! Pilo loves to learn new talents as he is really human and not a bird after all! (Psst... don't tell him otherwise).
9~ What difficulties did you encounter, if any, and how did you remedy them?
9. Most of the difficulties are associated with color! He doesn't like purple or dark colors! With a lot of praise, treats and patience the ugly monsters become favorites!
10~ What do you like least about your set up (if anything)?
10. The aspect that I like least is that the trays at the bottom require a lot of room to pull out! The right hand side rear especially! Seeing as his cage is cleaned and disinfected daily... you can imagine the frustration at times having to crawl into the cage to get the little poopies that seem to defy gravity!
11~ What do you like most about your setup?
11. Being able to enter his home so that Pilo feels like he is sharing is a wonderful feeling! He loves to hop on my shoulder and yak in my ear whilst I am trying to clean his abode! It also tends to alleviate any transgression from him being possessive about his domain!
12~ Did your bird(s) take to the setup right away or did they approach it tentatively needing time to adjust and do you feel their age was a factor?
12. Because Pilo has always had a largish cages... he wasn't apprehensive about going into another large enclosure with benefits! Pilo also has a sleep cage and travel cages if needed, so I guess an early exposure to these prevented any issues at all! So long as Pilo has company almost everyday, he is a happy chappie!
13~ Any future renovations planned?
13. If it makes Pilo safe and happy... nothing is out of the question!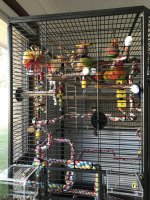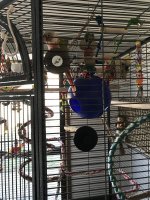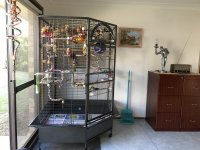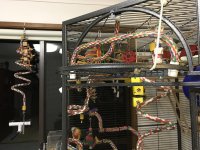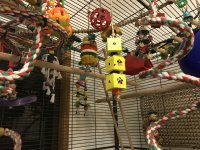 Last edited: