Cruising the avenue
Vendor
Avenue Veteran
Celebirdy of the Month
Mayor of the Avenue
Avenue Spotlight Award
Avenue Concierge
Joined

10/16/09
Messages

10,755
Location
Real Name

Claire
All is well with the Girls. We inherited two very well behaved dogs. Cuda, the German Shepherd has lost weight. She is very active and smart. She is very loving and is gaga head over heels for Dave.

Jett, is the wild child. She is very sweet to us. However, she is not nice if she sees anyone outside walking a dog outside in the yard. She wants to go after them. She's fearful of thunder, heavy rain. We did invest in a Thunder shirt. I haven't been home the last time we had any storm to see if it helped. Maybe some tomorrow and I will be home most of the day.
I still don't leave my other dogs out with Jett when I'm not home. She just can't be trusted, she's really a basket case brat.
We love them, we all miss their past master so much.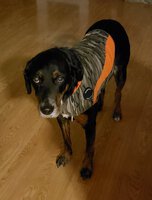 Jett in her Camo shirt so cute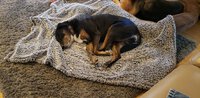 She loves, loves blankets. Loves to scrunch them up.
Cuda after grooming, every 8 weeks she gets a spa day.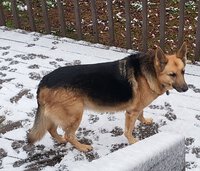 She's so foxy, getting that trim look, she's beautiful!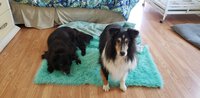 My old blind Girl left, and my most prized boy Cappy my little monkey nugget.
We are at 4 doggies, and still miss my sweet Bella Gump 3 months tomorrow since she left us.