Biking along the boulevard
Avenue Veteran
Celebirdy of the Month
Joined

12/10/15
Messages

7,144
Location
Real Name

Diane
We went to the vet for a pedicure this morning and the vet tech asked me- what we need done for grooming this time?
I said - just nails please.
And she said - his beak looks a little long. As you sure you don't want it trimmed?
I said - no thank you. I think it's ok for now. And she said - it's not too sharp?
I said- no, I think he's ok.
And she finally let it go. Mind you, if the actual vet said that to me I think I would have taken it a little more seriously in the moment.
In the past I have seen a big chunk fall off of Blu's beak on it's own time.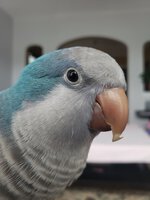 So I'm in the school of thought that it will come off when it's ready, and it doesn't impede his ability to do anything, so it's ok. I also don't want him to feel sore afterwards, if it's not really needed.
What do you guys think? Does his beak look too long?