Joined

5/6/19
Messages

82
Real Name

Mk
My parrot hurt her foot!

I don't know how it happened she was just sitting on the TV and I noticed she was moving around a lot as if she was losing balance so I looked at her and saw she kept touching her foot. When I checked, her right foot was really red as if it was about to bleed (it didn't), it looked like her skin scraped off! She didn't scream or anything and she kept touching it, which I stopped her from doing. I just put a little bit of baby powder on it and now she's just sitting here with her right leg up. It's too late to take her to the vet right now.
What do I do?

These were the best photos I could take at the moment...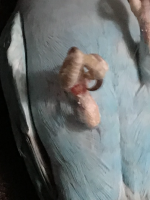 Does it look serious?
Do you think her foot will get better naturally?

I know you guys aren't vets but I'd appreciate some advice, thanks!