Joined

1/26/18
Messages

58
Location
Real Name

Barbara
Hello everyone
It's been a while since I posted.
Life with Anna is like having a naughty child in the house. Sometimes she is so much fun and so loving and other times she is a very bad girl.
She is very affectionate with me and I whenever I go in the aviary or take her out, all she wants to do is cuddle.
BUT she is a first class grouch before she gets her breakfast.
There is a small door which we can open to put in food.
Sometimes she just watches me. Other times, she flies at me in a huff...like this morning.
I decided to ignore her because she had absolutely no food or water. WRONG THING TO DO!
She warned me, I didn't listen, and she swooped down and bit me on my hand. Ouch! She got me good too!
I have no idea why she is so grouchy in the mornings. The rest of the day she is fine.
Anyone have any clues to this behavior?
So today I am a wounded cockatoo owner.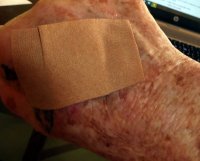 In better days, we are best of friends