Joined

1/21/21
Messages

5
Real Name

Sara
Tsuki here, I've been a bird mom for a while (about 2 years) but I only just decided to join a parrot forum - I figure this is a good way to learn more about my birds and step up my game when it comes to caring for them, since I don't really have anyone in my area that I could talk and discuss about birds with.
I'm from Portugal (Lisbon area) and I currently own two cinnamon pearl cockatiels, Peepo and Sunny, male and female respectively.
Here's a photo of the two offenders: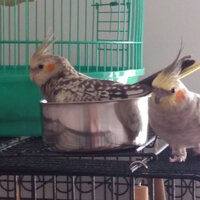 Peepo liked eating inside the food bowls when we first got him, it looks like hes on a little boat. Gladly he no longer does this, he would make a huge mess everytime he decided to eat
Well, I guess that's as far as my introduction goes.
Nice to meet you all!