Ripping up the road
Administrator
Avenue Veteran
Celebirdy of the Month
Mayor of the Avenue
Avenue Spotlight Award
Joined

4/15/10
Messages

46,760
Real Name

Matthew
Our "Mayor of the Avenue" award is presented to a member who exhibits the qualities that distinguish them to be an upstanding credit to the Avenue, a loving, informed, conscientious and caring bird parront and an all around good neighbor.
I am happy to announce that Laurie is December's Mayor of the Month.
I enjoyed reading your interview, and am sure that everyone else will as well!
1. What kind of birds do you have (age, species and names)?
I have a single cockatiel named Bebe. I'm unsure of his age but was told he was 10 years old when he came to live with me 3 years ago. Bebe is a very hands off feathered friend. We have worked together to accept slight head scritches. We still have long way to go before he will be a cuddle bug. He is very good at cues, yes want you touch me and no touching allowed.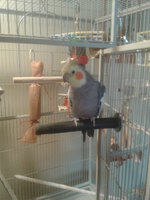 2. What got you interested in birds?
Many years ago, I saw a little budgie in cage full of budgies at local pet store. Poor little dude was being picked on horribly, I ran to first person salesperson manager I didn't care. I made them get the little one out of there. He came home in little box, with dinky cage. We named him Budweiser, Bud for short. He was grateful to have his boo boos tend too, be fed and loved on. After that I begin adopting birds that were no longer wanted, abandoned and the such.
3. What have your birds brought to your life?
Joy, learning, reading; I did alot of it to better understand how to care properly for the little feather butts
4. What have you learned from sharing your life with your birds?
They bring great joy in your life. Because I suffer with depression and SADD, they give me a reason to get up, get busy and take care of them.
5. What's one birdie memory that will stay with you forever?
Actually two memories that stick with me the first: My ex and I broke up with each other. Bud stayed with me. He was a depressed little budgie and so was I. We moved into much smaller apartment and I went into day care treatment center for mental illness. I would get home in the evening, eat dinner and let him out of the cage. We would have our nightly chats, about my day and his. I would always put him to bed with this, " hey baby how about a kiss?" With a soft kissy noise. One night he repeated it perfectly at bedtime. I knew we were going to be ok in long run.
The second one: was Rocky coming to live with me. His owner was hospitalized for long time, when he and his mate LB came to stay with me. The owner's daughter took LB home with her. Another depressed bird, poor Rocky, wouldn't come out of his cage. The budgies would try to get him to play with them. Nope, not having it. He barely ate and barely tried to become a flock member. After the budgies would go to bed. I worked with him every evening. Enticing him out with popcorn air popped, unsalted, no butter. He was don't touch me bird for a long time. One night I left the room for a second, came back to find him in the uncovered bowl of popcorn up to his wings. I laughed until tears rolled. He became my shadow bird from then on.
6. Where is your birds main living area? Mainly, in my living room on the bird wall.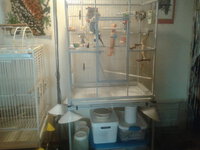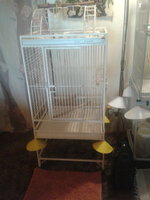 Cage and play area
7. Did you change things in your home to accommodate your birds and if so what kinds of things did you change?
Oh yes, the little feather butts are not allowed in the kitchen, bathroom, hallway or bedroom. That doesn't mean that they wouldn't test it. But I have set up barriers to try and keep them out of those areas. I have sheets strung across the dining room and the hallway by the front door. The hallway to the bathroom and bedroom there is curling ribbons strung up . Bebe will test it and test it again if I'm not paying attention.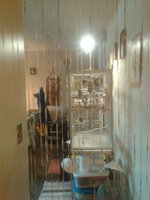 Curling ribbons across the entry to the hallway.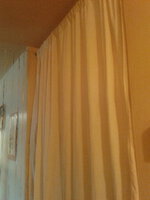 Sheet across the entry to the front door.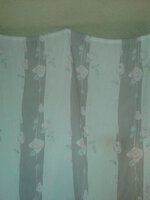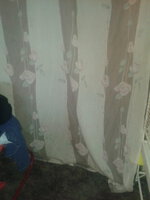 Sheet across the entry to the dining room and kitchen
8. Are you involved in any kind of bird related group or activities?
I used belong to Minnesota Companion Bird group. But their dues went up, they changed their location.
9. What is the one luxury item you would love to have for your bird(s)?
A bird room / aviary, where they can be out of cages all day long. Right now, it's not safe to do that.
10. Is there any bird that you dream of owning and if so why?
A macaw or cockatoo, I got to work with them at my former volunteer job. I fell hopelessly in love with both species. But I also know that it's a pipe dream living in apartment situation.
11. Describe a typical day with you at home with your birds.
I'm up about 8:30 in morning, that gives me time to wake up enough to begin the day. Bebe's lights are a timer. The lights comes on about 8:50, I make his breakfast and uncover by 9am. He gets 2 hours to eat his breakfast. Some days he cleans his dish, some days not so much. 11am, breakfast comes out, seeds and pellets go in, with fresh brita water. I clean out one layer of paper in his tray right before his seeds and pellets. Daily I vacuum under the cage. 3 times a week he gets his bath bowl, it's his choice to whether he uses it or not. He plays in his cage while I bustle around with my life. About 3pm, I open his big door, he has free time until about 8 pm. Again his choice to how he use it. 8 pm back into his cage, for any late night snacking and settling down. Lights go off at 8:50 pm. There is some nights he complains after it night night time but not often. We started all over again each day. I try to keep his routine the same daily basis.
12. What have you learned about owning birds that you would like to share?
Alot feeding them fresh nutritional food is way more than pellets and seeds and fresh water. You need to research every aspect of their diet, you need to be mindful of what is the best for them food wise and what is trash food, with very little nutritional value.
13. If you knew then what you know now about birds, what would you do differently?
Research research research, every aspect of every bird I have ever owned. What I didn't know I would have liked to have known. I would never given up any of them ever. But I have learned some hard lessons, the hard way.
14. What other hobbies do you have?
I do native amercian bead work. I organic garden and organically compost from early spring thru until winter. I read anything I can get my hands on. I use to volunteer at my cousin's veterinarian clinic, but that opportunity is no longer available.
15. Anything else you would like to share?
To all new bird owners that come here, please do your research, come ask questions please. There great people here that are willing to share their knowledge. Know that you we are going to try and help you as much as possible. Thank you for this opportunity.
Last edited: