It is with great pleasure that I announce the
Celebirdy for the month of April 2022
@AussieBird
's Quarter​
1. How did you acquire your bird?
Quarter was brought into my Vet's clinic a young bird with a wing injury. He was going to have to stay the night at the clinic and then they were going to find somewhere for him to go, but my vet ask if I wanted a Galah, and I said sure. Yes, getting Quarter was an impulse decision but I don't regret it and am fully committed to him now.
2. What is your bird's name, species, age and sex?

Quarter is a <9 months old Galah (Rose-Breasted Cockatoo), who is currently unsexed but I call him a he.
3. Does your bird do any special tricks?
When I got Quarter he was terrified of me, we are currently only at a point where scritches and occasional step ups are allowed. He also hates any kind of training.
4. What are some of your bird's favorite foods?
Kale, carnations, and Lilly Pillies (small native Australian fruit) are a few of the items on his short acceptable list.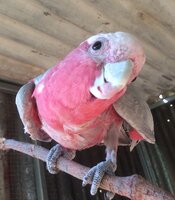 5. What is the funniest thing your bird has done?
Q is quite goofy and his number one priority is endless scritches, no matter what I am trying to do.
"I don't care about that nice piece of food or cool toy, Pet me Hooman!"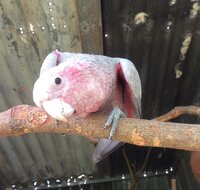 6. How has your bird enriched your life?
Quarter is so different to any animal I've ever ever lived with. He always puts a smile on my face, and is always
teaching me to be more patient.
7. What would you tell people who are considering this species?
Me and Q have only been together for about 3 month and I am still learning about him every day. Some general things about Galahs to remember are they are
dusty
, they are
noisy
, they have
strong
beaks, and they are
cockatoos
.
If you have allergies, can't handle noise, don't like the thought of hard bites, can't live with a 2yo for 50+ years, please reconsider getting a Galah.
8. What is the activity and noise level of your bird?
Due to his wing injury Q avoids flying, he prefers to climb unless he has been spooked. I am trying to increase his activity levels by having his enrichment spread out.
He is very quiet during the day every morning and/or evening he joins in with the wild 'toos, and being an outside bird he's allowed to be as loud as he wishes, most of the time you would think it's just another wild 'too.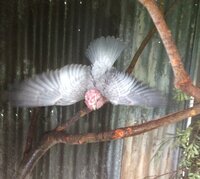 9. What are some of your bird's quirks?
No two toys are the same! I got him two new toys awhile ago and gave him both at the same time. One terrified him (even though I put in the corner of his aviary he didn't use) he's now used to it, but he doesn't use it. The other toy he used almost instantly and uses on a regular basis now.
10. If your bird talks, what is the most surprising word or sentence it has said?
Quarter currently only whistles.
11. What is your bird's favorite treat?
I'll let you know when we figure this out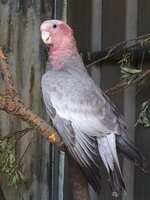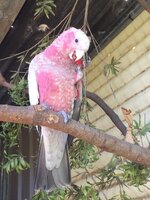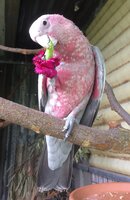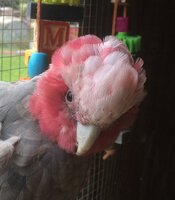 Last edited: