Sprinting down the street
Joined

2/15/21
Messages

425
Hi!
So I have a slightly handicapped lovebird. First of all, Ginger can't fly. She is missing some feathers on her right wing (due to an issue she had as a 13 day old baby), and so she has always struggled to fly. If she falls she can flap enough to keep herself safe, but she really struggles with taking off and trying to fly from point A to point B. (She can never make it and always ends up on a wall, and then climbs the rest of the way) She also was sitting on eggs and raising babies for the past 2 months, (she chose to adopt them) so her wing muscles are weaker than ever. Then she also has a problem with her toes. The two small toes that are closest to each other that point backwards don't really work. They curve towards each other, so they can't hold onto a perch. Ginger also has weak feet and a pretty bad grip on perches in general. Lastly, she also can't sleep with her head pointing backwards and nestled into her shoulder feathers like most birds do. If she tries to do that then she just tips over, and so she can only do that if she is pressed up against a wall. (because it provides stability and keeps her balanced). She has always lived outside, and she currently lives in a little aviary with her two (adopted) babies, and their true mother (Mango, the bird Ginger is bonded to). They are a happy little family, and they never fight. (the babies are only 6 weeks old, so Ginger still gets to mother them).
So long story short: How can I set things up in the aviary to help accommodate her, and is she ok still living outside, or should I move her indoors?
I have ropes and perches going to everything, so she doesn't need to fly anywhere. I want to give her more platforms and stuff so that she doesn't need to worry about holding onto a perch all the time, but I don't want to weaken her feet.
I would really appreciate any ideas that you guys have to help my beautiful little girl. Sorry for the long post!
Here's a drawing showing her curved toes (sorry for the terrible drawing - it's so hard to draw on a computer!)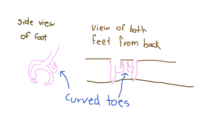 Here is a pic of Ginger