Joined

5/13/19
Messages

145
Location
I did a ton of research trying to find a good cage heater for Henry and I picked up the K&H large one for around $46. Measurements are 4"x7". It's in his sleeping cage and he snuggles up to it most nights. I wanted another heater for his "play cage" and went on the hunt again. Nothing wrong with the one I got but I was hoping to find something a little more cost effective.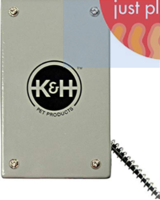 Enter...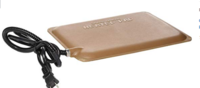 It's also by K&H. It measures 9x12 and it costs $26!! It's actually a chicken warmer lol. It's so big I'm able to have an upper perch and a lower perch so I know this would work great for big birds. The large K&H I got prior isn't large at all and I can't see how it would work for a larger bird.
It comes with four small holes in the corners that I drilled a bit bigger and then I used zip ties to attach to the inside of his cage.
The Snuggle Up bird warmer temps run from 102-110 degrees. The chicken bird warmer goes to 102 degrees.
For the cost savings and the additional size I would absolutely buy the chicken one again.
Link to the chicken one on amazon