Sitting on the front steps
Joined

2/8/20
Messages

17
Real Name

Andreea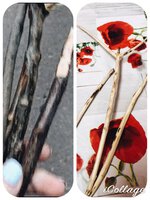 Hello everybody.
Today I went outside and got some branches from trees nearby. I didn't think much about it so I did not really take a pic of the trees to identify them.
I removed the branches bark, then washed them with vinegar and hand soap just in case.
Then, because my mom wouldn't let me bake them (as it said online) I put them on the stove and let them get a lil' burnt, so the bacteria would die.
They're pretty hard and I think they'll fit in my budgie's cage. Do you think that's alright/safe?