I just heard a massive commotion from the bird room, and Aurélie screech, and when I rushed in to investigate she was in a panic, thrashing around her cage. I managed to calm her down and get her out, and blood smeared over my hand when she stepped up.
I've only had one fid break a blood feather, and that was Kraz years and years ago, but I remember that it looked WAY worse than it was. But i have to say, Réy's wing looks pretty awful.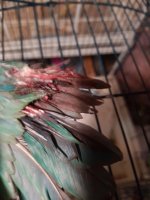 But it doesn't help that my glasses are broken and I can't see a dang thing (literally. I can't even see what I'm writing).
What are your thoughts? Blood feather or no?
Réy's still very upset and huffy, so it's hard to tell if she's badly in pain.