Jogging around the block
Celebirdy of the Month
Joined

3/24/21
Messages

696
Real Name

Nnbal
Hello to everyone.
I had shared Pasha's room before. I can't wash it like a normal cage because I can't take it off.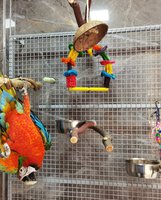 So I spray boiling water and then wipe it all over with a wet cloth. Some say it can be wiped with vinegar, but I don't think vinegar will work.I thought I could clean it with disinfectant but I wasn't sure because I can't rinse it well with water. I can wipe it with a cloth.Should I continue cleaning this way?
I also found this product. I don't know how useful it is.
Thank you in advance for your help.