Rollerblading along the road
Avenue Veteran
Celebirdy of the Month
Mayor of the Avenue
Avenue Spotlight Award
Joined

4/4/17
Messages

4,064
Location
Can't believe it's been five years! What a half decade.
Five years ago I was nervously starting out with Leia. At times it has been difficult: a parrot is a wild animal, and as their carers we have to be part zookeeper and part behaviourist. I believe it takes skill to keep an intelligent, flighted wild animal happy in a home environment - and it's certainly not straightforward. We've been through hormones, nestiness, feather destruction, seeking help from a behaviourist, radically rethinking how I interact with her and the beginnings of recovery from feather destruction. We've lived in four different homes and been joined by my wife and, two months ago, Leia's younger sister Kira.
Leia is smart, gentle, opinionated and sometimes spicy. She's a wonderful companion. We read each other so well and I've still not given her cause to bite me. She is one of my favourite economically inactive housemates
I've learnt so much from these forums. Thank you everyone for sharing your knowledge so freely. These forums offer a wealth of experience, and it's a privilege to learn from people who are so dedicated and knowledgeable.
Photo from today - Kira's cage in the background is small, but there's a 36x30" cage being made for her which should arrive soon. Leia is stretching and Kira is on the perch.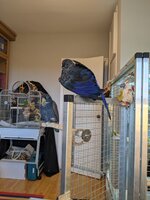 Last edited: