Sprinting down the street
Joined

2/27/14
Messages

405
Location
Real Name

Amy Pierce
This is Rodney.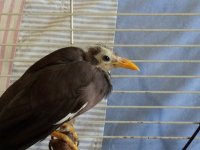 Rodney is a Common/Indian Myna that fell out a very high nest at only a few days old, and was picked up by some caring school kids. A teacher at the school took little Rodney from the kids and gave him a home. He was very well looked after, but as the teacher couldn't give him the space he needed to spread his wings, she asked if I could take him.
Unfortunately, Mynas in South Africa are considered to be huge pests, as they are not indigenous and generally make a big mess as they live just about anywhere. They are usually shot in high numbers or left to die when they are found out of their nests.
As people may know from my other posts, I rehabilitate wild birds, but as I would be risking Rodney's life by sending him out into the wild, I think I am quite happy to make him one of my permanents
He is now about 2 and a half months old.
As you can see, Rodney started out as a bit of a baldy. This seems to be quite common in Mynas, and can be a result of mites, disease or stress. Lucky us, he started growing head feathers within only a few days of being with me! I suspect it was stress from not having much space to grow in his previous home. He has been with me for just under a month, and nearly all of his feathers are through!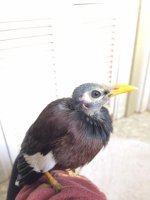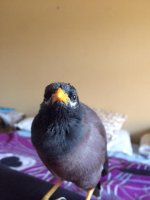 He loves to bath, sit on my head and sing his lungs out
So far, I have only heard him say "hello" once. Other than that, he makes a big jumble of sounds!
At the moment, he spends most of his day out in a small room, and his strength has increased tremendously! Before, he would fly a meter or two and start wheezing. Now, he zips happily around the room with no sign of any effort
I'm proud of this big boy!