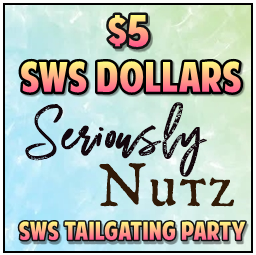 Could you use some extra cash for SWS?
Avian Avenue has you covered!

This raffle is for $5 SWS DOLLARS
ON ANY $35 OR MORE PURCHASE AT
SERIOUSLY NUTZ
Raffle rules
Sidewalk Sale Dollars will be issued in the form of a Gift Certificate and can only be used during SWS. If listed, minimum purchase amounts are required to use the SWS dollars. These are not transferable. Please do not enter the raffle if you do not intend on using it.

Members with 20 posts or more may enter the raffle once every six hours for a total not to exceed 2 times.

Raffle Winner Will be posted in the Marketplace.
Status: Drawn
Winner(s): tattoosiva
Start date: 4/23/20
Enter through: 4/24/20 12:00 AM
Draw date: 4/24/20 7:00 AM
Entries per user: 2
Enter 1 time every 6 Hours
Number of prizes: 1

The raffle has ended.
The winner(s) have been drawn.